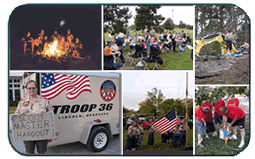 First chartered in 1943, Troop 36 has a long tradition of teaching, guiding, and growing with the youth of Lincoln Nebraska. Located in the northwest area of Lincoln, Troop 36 proudly continues the history and tradition that began over 60 years ago.



Troop 36 Brochure


Troop 36 Information Sheet

Salt Vally District - Cornhusker Council - Lincoln Nebraska
First Chartered on 12/1/1943
Chartering Organization: Holy Savior Lutheran Church
Institutional Head: Pastor Taylor Representative: Bob Lowe
Meetings are held at Holy Savior Lutheran Church, 10th & Superior during school year; outside over summer
Meetings are held on Mondays at 7:00pm year round
Troop Scoutmaster is
Bill Lang 402-477-6242
Committee Chair is Mike Everley
402-477-1782
Eagle Scouts Troop 36 has produced 42 Eagle Scouts
Troop 36 follows the patrol method defined for Scouting and currently has five (5) patrols for youth plus the adult 'Dinosaur Patrol'. Each youth patrol usually consists of six (6) to eight (8) scouts that work together under the direction of the patrol leader during campouts, troop meetings and patrol night.

Active throughout the year, Troop 36 plans monthly outings, attends District Fall and Spring camporees, and travels to summer camp yearly. Self contained, the troop owns and maintains a modern troop trailer, camping equipment, and training material.

Consistently awarded the Quality Unit and 100% Boys Life, the troop is actively involved with Cornhusker Council events and the community through multiple service projects.

Troop 36 extends our welcome to parents and boys who would like to visit the troop and learn more about becoming a part of our organization.